Good day to you all, my name is Scott and this is my introductory article to the world of Pauper Magic at the Gaming Vault. First thing you should know is that pauper is one of the least expensive formats available to Magic players, with decks ranging from a reasonable $25 to around $100, but those can vary depending on the card selection and whether or not you choose to use foils, promos, etc… The decks can be this cheap because the format only allows the use of common cards. Basically it's like Vintage, without the over the top power, but with all kinds of it's own.
For those of you wondering, we do keep to a strict 'needs to be common in paper' policy. Meaning Goblin Grenade (which is not printed at common on MTGO) is playable, but Battle Screech (which is printed at common on MTGO but not in paper) is not.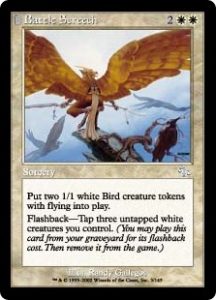 On top of this paper commons only, we do abide by the most current banned list:
At the Gaming Vault, we currently have around 20 decks that are free for the public to try out every Tuesday around 6:30, when we hold our pauper night. Every thing from control, to combo and reanimator, to aggressive beat down decks. Each deck brings a unique flair to every event, and of course you are always welcome to bring your own to test out! Everyone of every level of play is welcome and it is always a fun, inviting atmosphere.
Starting next week I will be posting about some of our unique builds, as well as some old favourites. You'll get decklists, opinions on cards and play, side boarding options, and anything else I can think to throw in. And feel free to give us any opinions, or sample deck lists in the comments section below.
Until then, I'll leave you with the card I'm most excited for joining the pauper family, all thanks to Modern Masters 3 which drops later this month! Check out the store for some sweet preorder deals!
The following two tabs change content below.
Scott Lingley
My name is Scott Lingley. I'm the Editor for The Gaming Vault but don't think that means I'm just here for my grammar skills. I also play Magic the Gathering, Force of Will, Guild Ball, and I've been known to dabble in whatever peaks my interest. And if you're wondering, white borders are the best borders
Latest posts by Scott Lingley (see all)